Grandma Paul's Sand Tarts
By
Paula Deen
JUMP TO RECIPE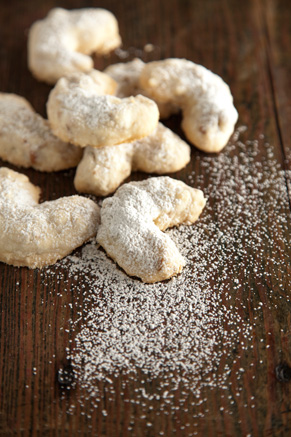 Difficulty: Easy
Prep time: 15 minutes
Cook time: 15 minutes
Servings: 15
Ingredients
1 cup (2 sticks) softened butter
1/2 cup plus more for coating cookies confectioner's sugar
1 teaspoon vanilla extract
1 3/4 cups plus more for dusting hands all purpose flour
1 cup chopped very small pieces pecans
Directions
Preheat oven to 270 °F. Line cookie sheets with parchment paper.
Using an electric mixer at low speed, cream the butter and sugar until smooth. Beat in the vanilla. At low speed gradually add the flour. Mix in the pecans with a spatula.
With floured hands, take out about 1-tablespoon of dough and shape it into crescent. Place the cookies 1-inch apart on the prepared cookie sheets. Cook's Note: Continue to dust your hands with flour as you make more cookies.
Bake for 40 minutes. Dust with additional confectioner's sugar while still warm. Cool completely on wire racks and store in airtight containers.