Granddaddy's Pot Roast
By
Paula Deen
JUMP TO RECIPE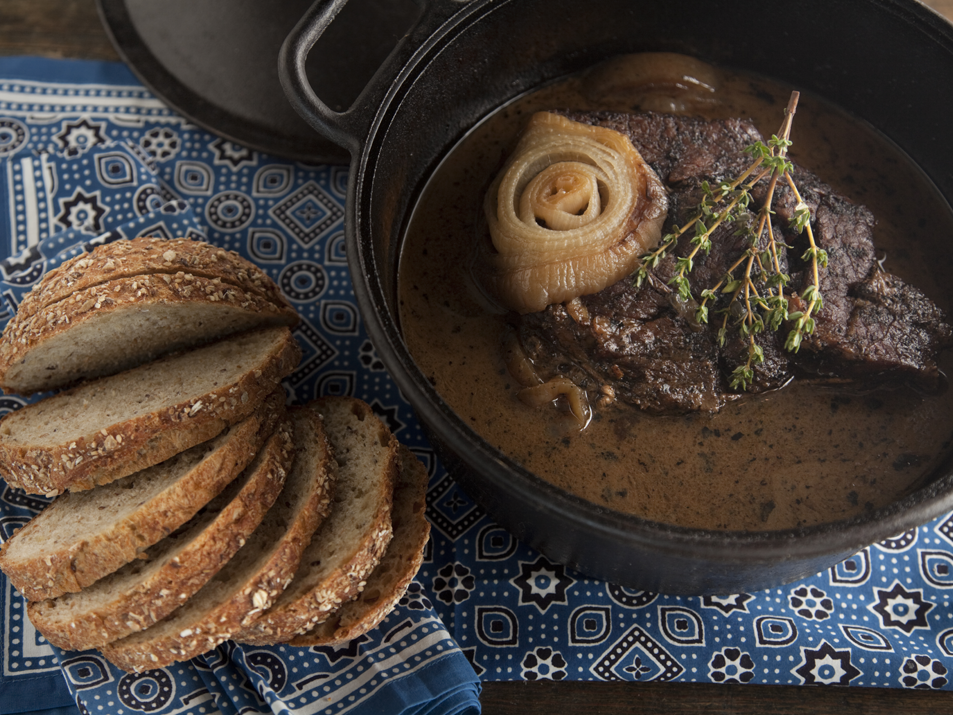 Difficulty: Easy
Ingredients
2 cups approximately beef broth or water
1 tablespoon rendered beef fat, or unsalted butter bacon drippings (preferred)
3 pounds or 5 pounds bone-in roast boneless chuck roast
2 large trimmed, peeled, and thinly sliced yellow onions
1 tablespoon Worcestershire sauce
1 tablespoon unbleached all-purpose flour
Directions
Position a rack in the center of the oven and preheat the oven to 300-325 degrees F. and fit a covered roaster or Dutch oven with a roasting rack. In a cast iron skillet, melt the fat over medium heat and when it is quite hot, brown the meat thoroughly on all sides. Remove the beef and season well with salt and pepper. Deglaze the skillet with broth or water and pour it into a covered roaster or Dutch oven. Turn off the heat.
Cover the roasting rack with half the onions. Place the beef over them and sprinkle it with Worcestershire. Cover it with the onions and sprinkle them with a little more salt, pepper and Worcestershire. Cover tightly and bake until the beef is almost falling-apart tender, about 3 hours.
Remove the meat to a platter and let it rest, covered, at least 15 minutes. Skim off the excess fat from the pan juices, reserving 2 tablespoons. Warm the reserved fat in the browning skillet over medium heat. Stir in the flour, and cook, stirring constantly, until smooth and lightly browned. Gradually stir in the pan juices, bring to a simmer, and simmer, stirring frequently, until thickened about 4 minutes. Adjust the seasoning and pour it into a warm sauceboat.
Take the onions off the top of the roast, slice, and arrange it on a platter. Drizzle it with some of the gravy and scatter the onions over it. Serve warm, passing the remaining gravy separately.