Good Doggies
By
Deen Brothers
JUMP TO RECIPE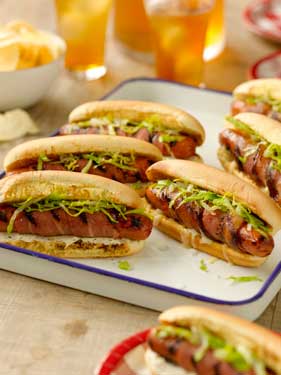 Featured in:
The Deen Bros. Get Fired Up
Difficulty: Easy
Servings: 8
Ingredients
1 16-ounce package hot dogs 8 dogs
8 slices turkey bacon
Olive oil
8 hot dog buns
1/2 cup Boursin Light cheese
6 tablespoons finely chopped onion
Shredded lettuce
Directions
Preheat the grill to medium-high heat and brush the grate with oil or spray with nonstick cooking spray.
Wrap each dog in a bacon slice, spiraling the bacon around the dog lengthwise. Brush each lightly with olive oil.
Transfer the hot dogs to the grill. Close the cover and cook, turning occasionally, until the bacon is crisp and the hot dogs are slightly charred, 3 to 5 minutes. Transfer to a plate while toasting the buns.
Place the buns on the grill, cut side down, until light golden, about 1 minute.
Reduce the heat to medium. Spread the buns with the Boursin cheese and place on the upper rack of the grill or away from the direct heat for 1 minute to warm through.
Sandwich the hot dogs inside the buns. Sprinkle each dog with onion and lettuce and serve.