Garlic-Butter Burgers
By
Deen Brothers
JUMP TO RECIPE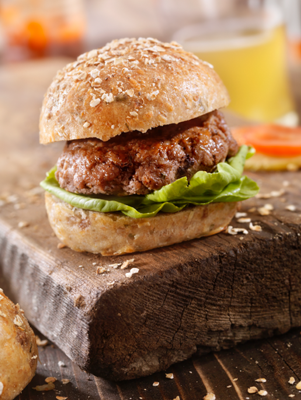 Featured in:
The Deen Bros. Y'all Come Eat
Difficulty: Easy
Servings: 4
Ingredients
1/4 cup 1/2 stick unsalted butter
2 tablespoons chopped fresh parsley
1 large clove garlic
Finely grated zest of 1 lemon
2 pounds ground beef
1 teaspoon salt
1 teaspoon freshly ground black pepper
4 hamburger buns
Tomato slices optional
Onion slices optional
Lettuce leaves optional
Directions
Prepare the grill for medium direct heat or preheat the broiler.
In a small bowl, mash together the butter, parsley, garlic, and lemon zest. Form the mixture into a log, wrap in plastic wrap, and chill in the freezer for 10 minutes.
In a large bowl, mix together the beef, salt, and pepper. Form into 4 patties about 1 inch thick; place on a rimmed baking sheet. Cut a slit 1/2 inch deep into the side of each burger. Cut the butter log into 8 slices; tuck 1 slice into the slit in each burger, pressing it deep into the burger. Pinch the slits closed so the meat totally covers the butter.
Grill or broil the burgers for 7 to 9 minutes for medium rare, turning once. Top the burgers with the remaining butter slices and place in the toasted buns. If desired, top with tomato, onion, and lettuce.