Fudge Brownie Bites with Cherry Mousse
By
Paula Deen
JUMP TO RECIPE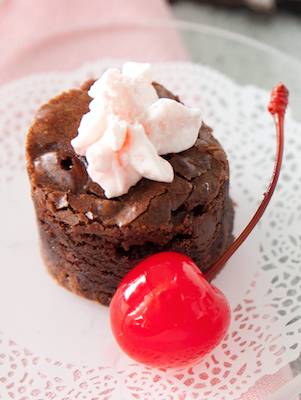 Difficulty: Easy
Prep time: 15 minutes
Cook time: 15 minutes
Servings: 15
Ingredients
1/3 cup boiling water
1/4 cup cold water
1 envelope unflavored gelatin
1 cup semisweet chocolate morsels
1 teaspoon vanilla extract
2 large eggs
1/4 cup water
1/2 cup vegetable oil
1 (19.5 oz) box fudgey brownie mix
2 cups heavy whipping cream
2/3 cup sugar
1/2 cup chopped, plus 3 teaspoons juice maraschino cherries
Directions
Preheat oven to 350 °F. Lightly grease a 15 by 10 by 1-inch jellyroll pan.
In a large bowl, combine brownie mix, oil, water, eggs and vanilla. Beat with a wooden spoon for 2 minutes. Stir in chocolate morsels. Pour batter into prepared pan. Bake 18 minutes; cool completely. Cut brownies using a 1 1/2-inch round cutter. Place on a serving tray; set aside.
In a small bowl, soften gelatin in 1/4-cup cold water, let stand 2 minutes. Add 1/3 cup boiling water, stirring until gelatin dissolves.
In a medium bowl, beat whipping cream with an electric mixer until foamy; gradually add sugar, beating until soft peaks form. Gently stir in gelatin mixture, cherries, and juice. Cover and chill 2 hours.
To serve, pipe or spoon cherry mousse onto prepared brownies.