Fried Pickled Okra with Creamy Chipotle Sauce
By
Paula Deen
JUMP TO RECIPE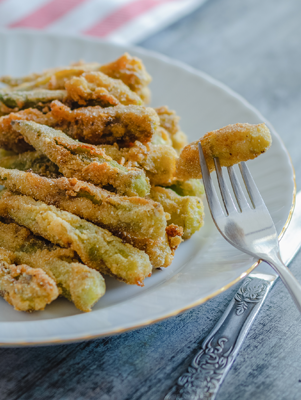 Difficulty: Easy
Prep time: 10 minutes
Cook time: 10 minutes
Servings: 10
Ingredients
1 1/4 cups recipe follows fry mix
1 cup beer
1 16-ounce jar drained pickled okra
3 cups self rising flour
1/2 cup self-rising white cornmeal
1/2 teaspoon salt
1/2 teaspoon crushed black peppercorns
1 8-ounce package softened cream cheese
2 tablespoons mayonnaise
1 chipotle in adobo sauce
2 juiced limes
3 tablespoons for garnish chopped green onion
Directions
Heat the oil to 350 degrees F in a deep skillet or fryer.
Combine the Fry Mix with the beer. Add the okra, coating it in the batter. Fry the okra, about 4 pieces at a time, turning the pieces frequently, until golden brown, about 2 minutes. Transfer the okra to a paper towel-lined plate to drain. Serve immediately with the Creamy Chipotle Sauce.
Fry Mix:
Whisk together the flour, cornmeal, salt, and pepper. Store in an airtight container in the pantry until needed.
Creamy Chipotle Sauce:
Blend the cream cheese, mayonnaise, chipotle, lime juice, and salt in a food processor until smooth. Cover and refrigerate until needed. Garnish with green onions.