Fried Onion Rings with Chili Sauce
By
Paula Deen
JUMP TO RECIPE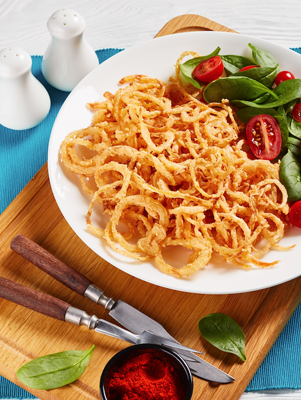 Difficulty: Medium
Prep time: 15 minutes
Cook time: 15 minutes
Servings: 15
Ingredients
1 cup mayonnaise
3 tablespoons chili sauce
1 teaspoon chili powder
1/8 teaspoon cayenne pepper
2 medium or white onions yellow onions
1 teaspoon seasoned salt
2 cups all purpose flour
for deep-frying vegetable oil
salt
Directions
Preheat oil to 360 °F.
To make the chili sauce, combine the mayonnaise, chili sauce, chili powder and cayenne in a small bowl and stir well. Cover and chill until serving time.
For the onion rings: Slice the onions into very thin rings and separate the rings. Spread them out and sprinkle with seasoned salt. Place the flour in a re-sealable plastic bag. Put the onion rings, in batches, in the bag, close tightly, and shake until the onion rings are coated.
Pour the oil into a Dutch oven. Fry the onion rings in batches for 3 to 4 minutes, until they are brown and crispy. Remove with tongs and drain on paper towels. Taste and season with salt, if necessary. Serve with chili sauce.