Fried Egg and Avocado Sandwich
By
Paula Deen
JUMP TO RECIPE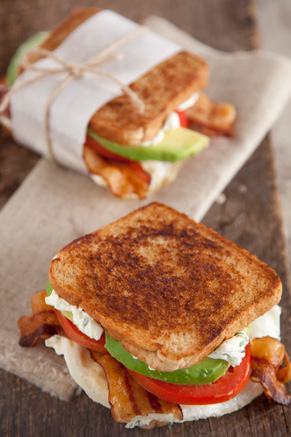 Difficulty: Easy
Prep time: 10 minutes
Cook time: 10 minutes
Servings: 10
Ingredients
4 slices bacon
2 tablespoons room temperature butter
4 slices toasted wheat bread
4 oz room temperature cream cheese
1 teaspoon minced fresh parsley
1 teaspoon minced green onion
1/8 teaspoon salt
1/8 teaspoon black pepper
2 large eggs
4 slices tomato
1/2 peeled, pitted, and sliced avocado
Directions
In a small skillet, cook bacon over medium-high heat until crispy. Remove from pan, and drain on paper towels. Drain grease from pan, reserving 1 tablespoon.
Spread butter over each side of bread. Place 4 slices of bread, butter side down, on skillet over medium heat. Flip bread and toast the other side. Remove to serving plates.
In a small bowl, add cream cheese, parsley and green onions together. Add salt and pepper. Spread onto 1 side of each toast slice.
In same small skillet, fry the eggs in reserved bacon grease over medium-low heat. Crack the yolks and flip. Place each egg on top of 2 pieces of toast. Cover each egg with 2 slices of bacon, 2 slices of tomato and 2 slices of avocado. Top with another piece of toast and serve immediately.