Fresh Fruit Salad With Lime-Ginger Honey Dressing
By
Paula Deen
JUMP TO RECIPE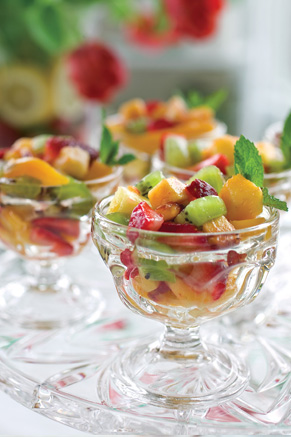 Difficulty: Easy
Prep time: 15 minutes
Cook time: 15 minutes
Servings: 15
Ingredients
6 peeled and chopped kiwis
4 peeled, pitted, and chopped peaches
2 ripe, peeled, pitted, and sliced mangoes
1 peeled, cored, and chopped pineapple
1 quart hulled and quartered strawberries
1/4 cup pineapple juice
1/4 cup lime juice
1/4 cup honey
1 1/2 teaspoons ground ginger
for garnish mint leaves
Directions
In a large bowl, combine kiwis, peaches, mangoes, pineapple and strawberries. Pour Lime-Ginger Honey Dressing over fruit, tossing gently to combine. Spoon into serving dishes, and garnish with mint, if desired. Serve immediately.
Note: Mango, pineapple, and kiwi can be cut the night before serving. Store, covered, in the refrigerator. Do not cut peaches and strawberries until right before serving. Leftover fruit is wonderful served on top of sliced of pound cake.
Lime-Ginger Honey Dressing:
In a medium bowl, whisk together pineapple juice, honey, lime juice and ginger. Cover and refrigerate for at least 1 hour before serving.