Fish Fajitas
By
Deen Brothers
JUMP TO RECIPE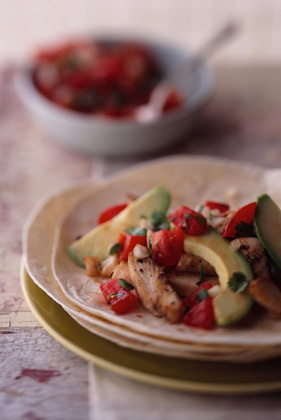 Featured in:
The Deen Bros. Recipes from the Road
Difficulty: Easy
Servings: 4
Ingredients
1 1/2 pounds mahi mahi
Salt and freshly ground black pepper
1 tablespoon olive oil
8 8-inch flour tortillas
1 cup fresh salsa
1 avocado
1 lime
Directions
Cut the fish into strips and season with salt and pepper. In a medium skillet, heat the oil over medium-high heat. Add fish; cook for 4 to 5 minutes or until cooked through, stirring frequently.
Heat a separate skillet (do not use nonstick) over medium-high heat. Warm the tortillas, one at a time, in the skillet. Line a plate or a wide, shallow bowl with a clean kitchen towel. Immediately transfer the hot tortillas to the plate, folding the edges of the towel over tortillas to keep them warm.
To assemble, divide the fish among tortillas and top with salsa and avocado slices. Squeeze lime juice over the avocado and roll up the tortillas.