Farmer's Pork Chops
By
Paula Deen
JUMP TO RECIPE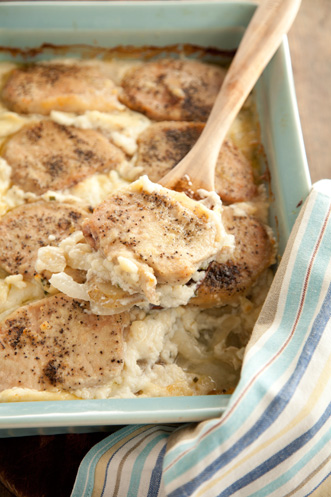 Difficulty: Easy
Prep time: 15 minutes
Cook time: 15 minutes
Servings: 15
Ingredients
8 about 1/2 inch thick boneless pork chops
8 medium potatoes
1/2 medium onion
to taste salt and pepper
1 1/2 cups divided all purpose flour
2 tablespoons Paula Deen's Seasoned Salt
1/3 cup vegetable oil
8 tablespoons (1stick) butter
4 cups milk
1/4 cup chopped, or chives. Optional fresh parsley
1 to 2 teaspoons plus more for seasoning pork salt
1/2 to 3/4 teaspoon plus more for seasoning pork pepper
Directions
Preheat oven to 350 °F. Peel potatoes; slice 1/4 inch thick and cover with cold water. Slice onion into very thin slices, and then cut the slices in half. Drain potatoes; layer half the potatoes in a well-greased 15×10 inch casserole dish. Scatter half of the onion slices on top of potatoes. Sprinkle with salt and pepper to taste. Repeat with remaining potatoes and onions. Cover potatoes with white sauce (below). Cover casserole dish with plastic wrap and microwave for 5 minutes on high or bake uncovered for 15 minutes.
Sprinkled seasoned salt on pork chops and dredge chops in one cup flour and salt and pepper. Lightly brown chops in vegetable oil. Do not cook them completely. As chops are removed from frying pan, lay them on top of potatoes.
Bake at 350 °F for 50 to 60 minutes. The juices from the pork chops will drip down into the potatoes. Delicious!
Paula Deen's White Sauce
Melt butter; remove from heat. Stir in 1/2 cup flour; add salt and pepper. Return to heat and cook, stirring constantly, until mixture is bubbly. Add milk, 1 cup at a time. Bring to a boil over medium heat, stirring frequently. Reduce heat and simmer 1 to 2 minutes, then let stand at least 1 to 2 minutes. Stir in parsley or chives, if desired.