Enlightened Chocolate-Almond Fudge
By
Deen Brothers
JUMP TO RECIPE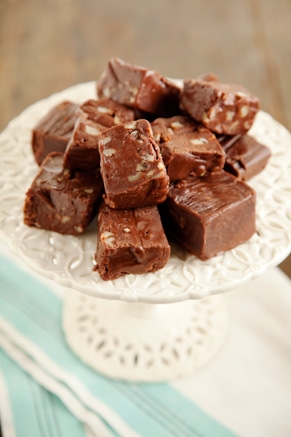 Difficulty: Easy
Prep time: 10 minutes
Cook time: 10 minutes
Servings: 10
Ingredients
1 (14 oz) can fat-free sweetened condensed milk
1 cup semi sweet chocolate chips
1 cup milk chocolate chips
2 teaspoons instant espresso coffee powder
1 pinch salt
1 1/2 teaspoons vanilla extract
1/2 cup plus 2 tablespoons, plus lightly toasted, coarsely chopped almonds
Directions
Line an 8-inch square baking pan with wax paper, allowing the wax paper to extend over the rim of the pan by 2 inches.
Combine the sweetened condensed milk, the chocolate chips, coffee powder and salt in a medium saucepan over medium heat. Cook, stirring frequently, until the chocolate is melted and smooth. Remove from the heat. Stir in the vanilla and 1/2 cup of the almonds. Spread the chocolate mixture evenly into the prepared pan. Top evenly with the remaining 2 tablespoons of almonds.
Refrigerate until firm, at least 2 hours. Remove from the pan and gently peel off the wax paper. Cut into 24 squares.