Crispy Rice Candy Corn Treats
By
Paula Deen
JUMP TO RECIPE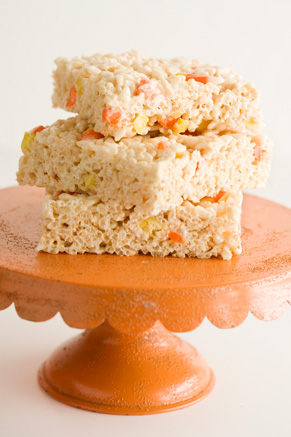 Difficulty: Easy
Prep time: 10 minutes
Cook time: 10 minutes
Servings: 10
Ingredients
4 tablespoons butter
1 (10 oz) bag marshmallows
1/4 teaspoon salt
1 teaspoon vanilla
6 cups crispy rice cereal
1 cup rough chopped candy corn
Directions
Spray a 13×9 glass baking dish and rubber spatula with non stick spray.
In a medium sized sauce pan over low heat, add butter to melt. Once melted add marshmallows, salt, and vanilla. Stir continuously until the marshmallows have reached a smooth consistency. Remove from heat and fold in the cereal and candy corns until completely coated.
Add the mixture to the greased baking dish and smooth out evenly. Allow to cool before cutting into squares.