Creole Shrimp and Lobster Bisque
By
Paula Deen
JUMP TO RECIPE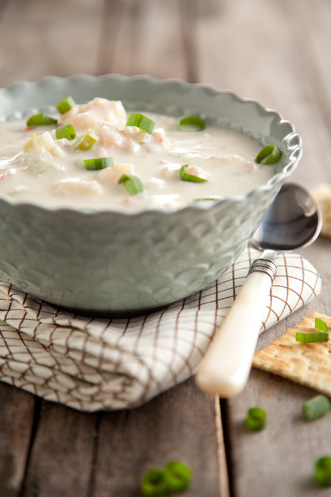 Difficulty: Medium
Prep time: 10 minutes
Cook time: 10 minutes
Servings: 10
Ingredients
2 cups half and half
1 teaspoon Creole Blend
1/2 lb steamed medium size peeled, deveined, steamed and chopped fresh shrimp
3 cups chicken broth
1/3 cup all purpose flour
2 cloves minced garlic
2 stalks finely chopped
1 small finely chopped white onion
4 tablespoons butter
2 steamed fresh lobster tails
Directions
Remove lobster meat from shell; coarsely chop and set aside.
In a large saucepan, melt butter over medium heat. Add onion, celery, and garlic; cook for 5 minutes, stirring occasionally. Stir in flour, and cook for 2 minutes. Stir in chicken broth; cook for 10 minutes, stirring occasionally, until thickened.
Add lobster meat and shrimp. Stir in half-and-half and Creole seasoning; cook for 10 minutes, or until heated through, stirring occasionally. Serve immediately.
For the "Sour Dough Bread Bowl"
Hollow out the bread, according to how much of the bisque you wish to put in there. Brush the bread with olive oil as a seal. Place in a 350 °F oven for 12-15 minutes at most.