Creamy Artichoke and Spinach Dip with Pita Chips
By
Deen Brothers
JUMP TO RECIPE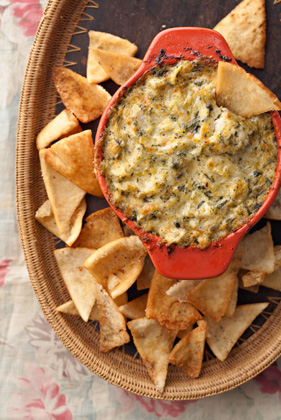 Featured in:
The Deen Bros. Y'all Come Eat
Difficulty: Easy
Servings: 3 1/2 cups
Ingredients
Butter for coating dish
2 14-ounce cans artichoke hearts
1 10-ounce package frozen chopped spinach
6 ounces Parmesan cheese
3/4 cup mayonnaise
3/4 cup sour cream
1 clove garlic
Finely grated zest of 1 lemon
1 teaspoon bottled hot pepper sauce
Salt
Freshly ground black pepper
Pita chips
Directions
Preheat oven to 375°F. Butter a 1 1/2-quart casserole dish; set aside.
In a medium bowl, stir together the remaining ingredients except the pita chips. Spoon the artichoke mixture into the prepared casserole. Bake for 30 to 40 minutes or until golden. Serve hot or warm with pita chips.