Crack Candy
By
Suzette and Amy, The Sweet and Savory Sisters
JUMP TO RECIPE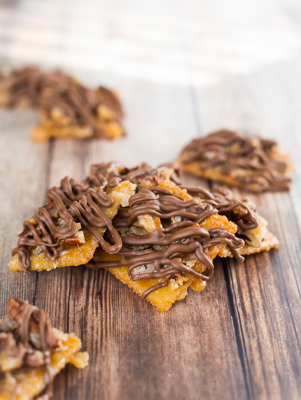 Difficulty: Easy
Prep time: 5 minutes
Cook time: 5 minutes
Servings: 5
Ingredients
1 1/2 sleeves saltine crackers
2 sticks butter
1 cup packed brown sugar
1 cup mini semi-sweet chocolate morsels
1 cup mini milk chocolate morsels
1 cup toffee bits
1 cup finely chopped walnuts or pecans
Directions
Spray a large cookie sheet with cooking spray (line first with parchment paper if you wish). Place crackers on cookie sheet in rows.
In a medium sauce pot, melt butter and stir in brown sugar. Bring mixture to a boil and let boil for 3 minutes.
Pour mixture over crackers and bake in a preheated 350 °F oven for 3-5 minutes. Remove from oven and turn oven off.
Sprinkle chocolate chips, toffee bits and nuts over crackers. Return to oven and let chocolate melt, about 3-5 minutes. Cut into squares while warm.