Crab Martini
By
Paula Deen
JUMP TO RECIPE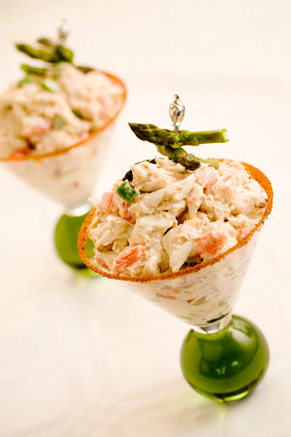 Difficulty: Easy
Prep time: 15 minutes
Cook time: 15 minutes
Servings: 15
Ingredients
1 lb clean, picked and cooked claw crabmeat
Paula Deen Lemon Pepper Seasoning
Paula Deen Seasoned Salt
1 lb cleaned, picked and cooked lump crabmeat
1 zested and juiced, plus more for dipping glass lemon
2 to 3 small diced tomatoes
2 tablespoons or spicy dijon mustard
1 cup mayonnaise
12 to 15 spears fresh asparagus
Paula Deen's House Seasoning
crab boil seasoning
for garnish lemon wedges
for garnish olives
Directions
In a large pot bring salted water to a boil and blanch the asparagus by placing them in boiling salted water for 1 minute, and immediately shocking them in a bowl of ice water.
Trim the very bottom of the asparagus and discard. Cut off the top 2-inches of the asparagus and set aside for garnish. Finely chop the remaining asparagus. In a medium bowl, combine the asparagus with the mayonnaise, mustard, tomatoes and lemon zest and lemon juice. Gently fold the crabmeat into the asparagus mixture and season to taste with Lemon Pepper Seasoning, Seasoned Salt and House Seasoning.
Using the extra lemon juice wet the rim of the martini glass and dip it into the crab boil seasoning. Put the crab mixture into the prepared glass and serve with the asparagus tops, lemon wedges, and olives as garnish.