Country Oxtails
By
Paula Deen
JUMP TO RECIPE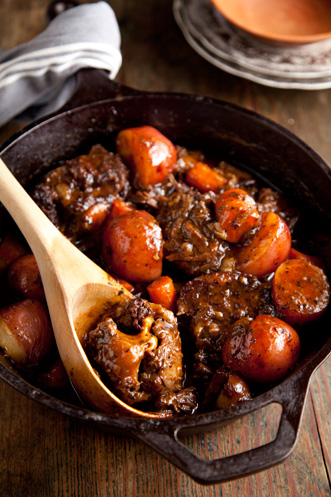 Difficulty: Easy
Prep time: 10 minutes
Cook time: 10 minutes
Servings: 10
Ingredients
3 lbs oxtails
Paula Deen House Seasoning
1 teaspoon olive oil
1 can beef broth
1 cup red wine
1 tablespoon Worcestershire sauce
6 cloves large ones cut in 1/2 garlic
1 teaspoon dried basil
1 teaspoon dried oregano
2 bay leaves
1 (8 oz) can tomato sauce
1/2 cut into 6 wedges Vidalia onion
6 small cut in 1/2 new red potatoes
4 medium cut into 2-inch lengths carrots
1 pot cooked and hot buttered rice
Directions
Preheat oven to 300 to 350 °F.
Sprinkle the oxtails liberally with House Seasoning on both sides.
Coat the bottom of a heavy oven-proof Dutch oven with the olive oil. Once heated, add the oxtails and sear on all sides. Remove and set aside. Scrape up the brown bits from the bottom of the pan. Add the beef broth, red wine, Worcestershire sauce and garlic cloves. Stir. Add basil, oregano, bay leaves, hot sauce, tomato sauce and the reserved oxtails. Stir to combine all ingredients together.
Cover tightly, place in oven, and bake for 2 to 3 hours.
Remove from oven and bring to a simmer on stove top. Add the sweet onion wedges, red potatoes, garlic and carrots to the pot. Cover and simmer until potatoes are almost tender, roughly 15 minutes.
Serve oxtails with the vegetables over hot buttered rice.