Cat Head Biscuits with Sawmill Gravy
By
Deen Brothers
JUMP TO RECIPE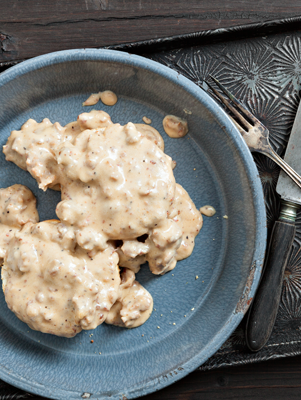 Featured in:
The Deen Bros. Y'all Come Eat
Difficulty: Easy
Prep time: 10 minutes
Cook time: 1 hour
Servings: 6
Ingredients
Nonstick cooking spray
3 cups self-rising flour
1 1/2 cups buttermilk
2 tablespoons unsalted butter
1 pound bulk breakfast sausage
4 1/2 tablespoons all-purpose flour
2 1/4 cups milk
1/2 teaspoon freshly ground black pepper
1/4 teaspoon salt
Directions
Preheat oven to 400°F. Lightly coat a baking sheet with cooking spray; set aside.
For the biscuits, in a medium bowl, gently stir together the 3 cups flour, the buttermilk, and butter until the dough just comes together. On a floured surface, pat the dough into a 1 1/2-inch-thick round. Cut the dough into six 4-inch circles; transfer to the baking sheet. Bake about 25 minutes or until golden brown.
For the gravy, in a large skillet, cook the sausage over medium heat until brown, breaking meat up with a fork as it cooks. Using a slotted spoon, transfer sausage to a paper towellined plate to drain. Pour off all but 2 tablespoons fat from the skillet.
Heat the remaining fat over medium heat and whisk in the 4 1/2 tablespoons flour; cook and stir for 2 minutes. Slowly whisk in the milk; increase heat to medium-high and simmer about 3 minutes or until thickened. Stir in the sausage, pepper, and salt. To serve, split the biscuits and top with generous spoonfuls of gravy.