Brussels Sprouts Gratin
By
Paula Deen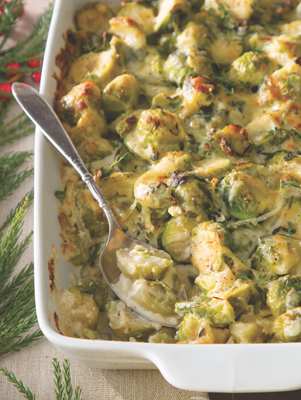 Prep time:

20 minutes

Cook time: 60-80 minutes
Servings: 6 to 8
Ingredients
3 teaspoons Kosher salt, divided
3 pounds Brussels sprouts, trimmed and halved
2 tablespoons unsalted butter
¾ cup thinly sliced onion
¼ cup all-purpose flour
2 cups half-and-half, room temperature
2 cups shredded Gruyere cheese, divided
1 tablespoon chopped fresh thyme
¾ teaspoon ground black pepper
chopped fresh thyme, for garnish
Directions
Preheat oven to 375˚F . Spray a 13 x 9-inch broiler-safe baking dish with cooking spray.
Fill a large Dutch oven with 4 inches of water and 2 teaspoons salt; bring to a boil over medium-high heat. Add sprouts; cook until crisp-tender, about 5 minutes. Drain well, and spread onto paper towels to dry.
In same Dutch oven, melt butter over medium heat. Add onion; cook, stirring occasionally, until tender, about 5 minutes. Add garlic; cook until fragrant, about 1 minute. Stir in flour, cook for 1 minute, stirring constantly.
Gradually whisk in half-and-half until smooth; bring to a boil. Remove from heat; whisk in 1½ cups cheese until melted and smooth. Whisk in thyme, pepper, and remaining 1 teaspoon salt. Stir in sprouts until well combined. (Mixture will be thick.) Spoon into prepared pan, and sprinkle with remaining ½ cup cheese.
Bake until bubble and cheese is melted, about 30 minutes. Increase oven temperature to broil; broil until top is golden brown, 3 to 5 minutes. Let stand for 10 minutes before serving. Garnish with thyme, if desired.
Tip: Gratin can be prepared through step 4, covered, and refrigerated overnight. Let it stand, uncovered, at room temperature for 30 minutes before baking as directed.