Bobby's Lighter Shrimp and Grits
By
Bobby Deen
JUMP TO RECIPE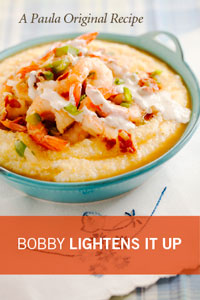 Difficulty: Easy
Prep time: 10 minutes
Cook time: 10 minutes
Servings: 10
Ingredients
1/4 cup diced Canadian bacon
2 teaspoons olive oil
1 diced onion
1/2 seeded and diced green bell pepper
1 dozen large peeled and de-veined, with tails on shrimp
3 cloves minced garlic
1 (14 1/2 oz) can diced tomatoes
1/4 cup dry white wine
1 teaspoon hot sauce
3/4 teaspoon salt
1/4 cup fat free half and half
3 cups water
3/4 cup uncooked quick cooking grits
1 tablespoon chopped fresh chives
Directions
Add bacon to a nonstick skillet and saute over medium heat until crisp. Transfer the bacon to a plate; set aside. Add the oil to the skillet and set over medium heat. Add the onion and bell pepper, and cook, stirring occasionally, until the vegetables are tender, about 8 minutes.
Add the shrimp and garlic to the skillet and cook, stirring, until the shrimp begins to turn pink, about 1 – 2 minutes. Transfer the shrimp to a bowl; set aside. Add the tomatoes, wine, hot sauce, and 1/2 teaspoon salt; bring to a boil, stirring constantly to scrape the browned bits from the bottom of the pan. Reduce the heat and simmer, uncovered, until the flavors are blended and the sauce begins to thicken, about 6 – 8 minutes. Return the bacon and shrimp to the skillet. Stir in the half-and-half; heat through.
Meanwhile, bring the water to a boil in a medium saucepan. Slowly whisk in the grits, and the remaining 1/4 teaspoon salt. Reduce the heat, and simmer, covered, until thickened, about 5 minutes. Remove from the heat. Serve the shrimp mixture over the grits. Sprinkle with the chives.