Bobby's Lighter Old Fashioned Rice Pudding
By
Bobby Deen
JUMP TO RECIPE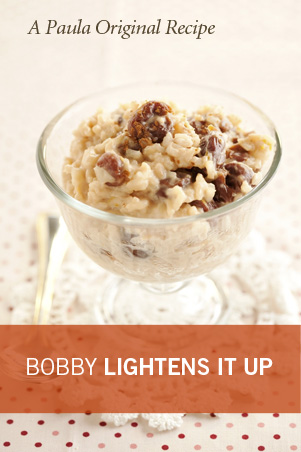 Difficulty: Easy
Prep time: 10 minutes
Cook time: 10 minutes
Servings: 10
Ingredients
1/3 cup plus 2 tablespoons, divided sugar
2 tablespoons all purpose flour
1/2 teaspoon salt
3 cups fat-free milk
1 large at room temperature egg
1 egg yolk
3 cups cooked white rice
1/4 cup raisins
2 teaspoons vanilla extract
2 teaspoons lemon juice
1/4 teaspoon freshly grated nutmeg
3 at room temperature egg whites
1/4 teaspoon cream of tartar
Directions
Preheat the oven to 350º. Spray a 1 1/2-quart casserole with nonstick spray.
In a saucepan, 1/3 cup sugar, flour, and salt. Slowly whisk in the milk. Cook, over medium-low heat, stirring constantly, until thickened. Beat the egg and egg yolk lightly, then whisk in about 1/2 cup of the hot custard to temper the eggs. Add the egg mixture to the custard and cook for 2 minutes longer, stirring constantly with a wooden spoon.
Remove from the heat; stir in the rice, raisins, vanilla, lemon juice, and nutmeg. Pour into the casserole. Bake 20 minutes. Five minutes before the pudding is done, make the meringue: Beat the egg whites and cream of tartar in a deep, narrow bowl until soft peaks form. Add 2 tablespoon sugar, 1 tablespoon at a time, beating well after each addition.
Remove the pudding from the oven and top with the meringue, swirling it into peaks. Bake for 12 to 15 minutes or until browned.