Bobby's Lighter Mushroom Bundles
By
Bobby Deen
JUMP TO RECIPE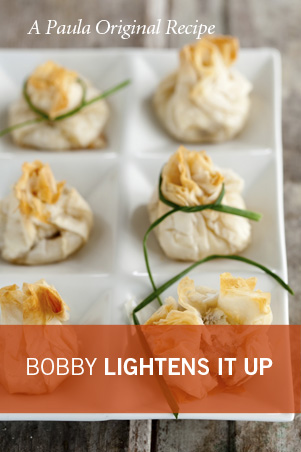 Difficulty: Medium
Prep time: 20 minutes
Cook time: 20 minutes
Servings: 20
Ingredients
1 tablespoon olive oil
1 (10 oz) package sliced mushrooms
1 (3.5 oz) package stems removed and sliced shiitake mushrooms
2 finely chopped shallots
1/4 teaspoon salt
1/4 cup dry white wine
1/4 cup shredded reduced-fat Swiss cheese
3 tablespoons light boursin cheese
12 (9 x 14-inch) thawed frozen phyllo pastry sheets
Directions
Preheat oven to 375 °F. Spray a large baking sheet with nonstick spray.
Heat the oil in a large nonstick skillet over medium-high heat. Add the mushrooms, shallots and salt, and cook, stirring occasionally, until the mushrooms are tender and any liquid is evaporated, about 8 minutes. Add the wine; bring to a boil. Cook, stirring occasionally, until the wine evaporates, 2 – 3 minutes. Transfer the mushroom mixture to a bowl; let cool 10 minutes.
Stir in the Swiss cheese and boursin until well mixed.
Unroll phyllo and stack 12 sheets on a work surface. Take 1 phyllo sheet off the stack and lay it on a large cutting board (keep remaining stack covered with plastic wrap and a damp dish towel to keep them from drying out). Lightly spray phyllo sheet with nonstick spray. Top with another sheet and lightly spray with nonstick spray. Repeat with one more piece of phyllo, lightly spraying with nonstick spray; cut lengthwise in thirds, then cut crosswise in half to make 6 rectangles. Spoon 1 tablespoon filling in the center of each rectangle. Gather the 4 corners of the phyllo over the filling and pinch together forming a bundle. Transfer the bundles to the baking sheet. Repeat with the remaining phyllo sheets and filling, to make a total of 24 bundles in 4 more batches.
Bake until the filling is hot and the phyllo is crisp and browned, 12 – 15 minutes.