Bobby's Lighter Caramel Cake
By
Bobby Deen
JUMP TO RECIPE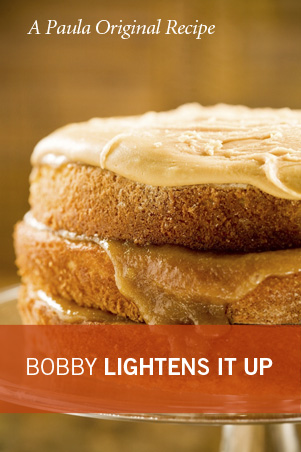 Difficulty: Medium
Prep time: 15 minutes
Cook time: 15 minutes
Servings: 15
Ingredients
1 (8 oz) package reduced-fat cream cheese
1 1/2 cups confectioner's sugar
1/4 cup fat-free caramel sauce
4 tablespoons chopped and divided pecans
1 cup (not self-rising) cake flour
1 teaspoon baking powder
1/2 teaspoon salt
1/4 teaspoon baking soda
3/4 cup packed divided light brown sugar
1/3 cup canola oil
1/4 cup granulated sugar
1 large egg
1 egg yolk
1 3/4 teaspoon divided vanilla extract
2/3 cup plus 1/2 cup for filling reduced fat milk
2 tablespoons all purpose flour
2 teaspoons butter
Directions
To make the frosting, with an electric mixer on high speed, beat the cream cheese, confectioner's sugar, and caramel sauce until blended. Stir in 2 tablespoons nuts. Cover and refrigerate until ready to use.
Preheat the oven to 350 °F. Spray a 9-inch round cake pan with nonstick spray.
Line the bottom with wax paper; lightly spray with nonstick spray.
To make the cake, whisk together the cake flour, baking powder, salt, and baking soda in a small bowl. With an electric mixer on medium speed, beat the 1/2 cup brown sugar, oil, and granulated sugar until smooth. Beat in the egg, egg yolk, and 3/4 teaspoon vanilla. Alternately add the flour mixture and 2/3 cup milk, beginning and ending with the flour mixture and beating just until blended.
Pour the batter into the pan. Level batter by holding pan 3 or 4-inches above counter dropping it flat onto counter. Do this several times to release air bubbles and assure a more level cake.
Bake until a toothpick inserted in the center comes out clean, 25 – 30 minutes. Let cool in the pan on a rack 10 minutes. Remove the cake from the pan and let cool completely on the rack.
Meanwhile, to make the filling, combine 1/4 cup brown sugar and 2 tablespoons flour in a small saucepan. Whisk in 1/2 cup milk; bring to a boil. Boil until the mixture just begins to thicken, 1–2 minutes whisking constantly. Remove from the heat; stir in the 2 tablespoons nuts, butter, 1 teaspoon vanilla and pinch salt. Let cool completely.
Split the cake layer in half with a long serrated knife. Place the bottom layer, cut side up, on a serving plate. Spread the filling evenly over the layer, leaving a 1/2-inch border. Place the remaining layer on top, rounded side up. Spoon the frosting over the top, allowing it to drizzle down the side of the cake. Refrigerate until set.