Blueberry Lemonade
By
Paula Deen
JUMP TO RECIPE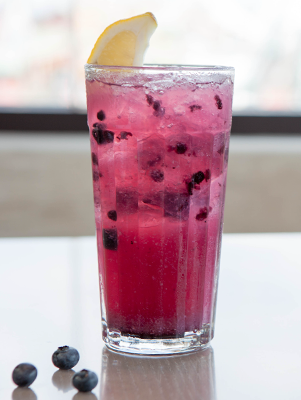 Difficulty: Easy
Prep time: 10 minutes
Cook time: 25 minutes
Servings: 10 to 12
Ingredients
Blueberry Lemonade
2 cups sugar
2 cups fresh lemon juice
1 cup hot water
1 gallon cold water
1 lemon, sliced, for garnish
fresh mint, for garnish
Blueberry Syrup
4 cups fresh blueberries
½ cup sugar
juice from 1 lemon
Directions
Blueberry Lemonade
For the lemonade. In a one-gallon container, place sugar and hot water, and stir until
sugar dissolves. Add lemon juice and water to render one gallon. Stir well until well
mixed.
Pour lemonade over a glass of ice, stir in blueberry syrup to taste. Garnish with slice of
lemon and sprig of mint
Blueberry Syrup
Put the blueberries, sugar, and lemon juice in a saucepan. Bring to a boil, stirring constantly, then reduce the heat and simmer until thick, 20 to 25 minutes.
Strain the blueberries through a fine-mesh strainer, pressing to get all the liquid out, then place the liquid in the fridge and chill until cold.