Baked Hush Puppies
By
Deen Brothers
JUMP TO RECIPE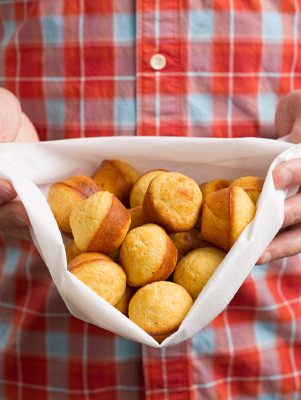 Featured in:
The Deen Bros. Take It Easy
Difficulty: Easy
Prep time: 20 minutes
Cook time: 10 minutes
Servings: 24
Ingredients
Vegetable oil
2/3 cup yellow cornmeal
1/3 cup all-purpose flour
1 teaspoon baking powder
3/4 teaspoon salt
1/8 teaspoon freshly ground black pepper
1/2 cup finely chopped onion
1/3 cup milk
2 large eggs
2 tablespoons unsalted butter
Directions
Preheat the oven to 450. Lightly grease a 24-cup mini muffin pan or spray with nonstick cooking spray.
In a medium bowl, combine the cornmeal, flour, baking powder, salt and pepper.
In a separate bowl, mix together the onion, milk, eggs and butter. Fold the egg mixture into the flour mixture until the flour mixture is just moistened.
Spoon 1 tablespoon of the batter into each of the prepared mini muffin cups. Bake for 10 minutes, or until the hush puppies are firm to the touch and golden brown around the edges.