Magazine
Cooking with Paula Deen
Since the debut issue in November 2005, Cooking with Paula Deen magazine has been a treasured resource for easy and delicious dishes and for sharing in the rituals of Paula and her family. No matter the occasion or time of year, you'll find authentic Southern recipes for casseroles, meats and entrées, vegetables and side dishes, breads, desserts, and so much more.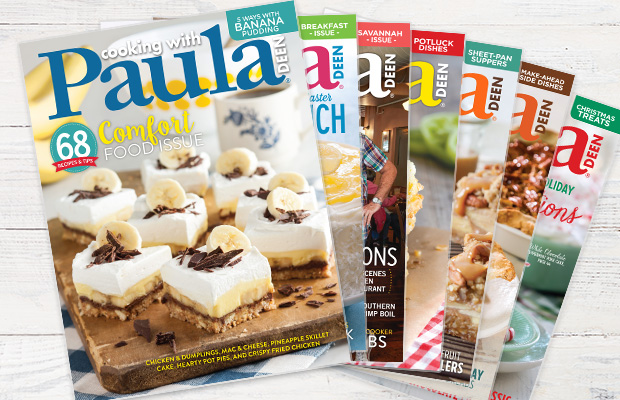 In Every Issue
In each issue, readers find flavorful recipes for sharing with family and friends along with access to Paula's life and her family traditions. Cooking with Paula Deen showcases down-home recipes and cooking tips, a weekly meal planner, indulgent desserts, the best ways to prepare fresh seasonal produce, slow cooker and cast-iron dishes, menus for holidays and special occasions, family Sunday supper, table décor ideas, Southern-made food products, and exciting destinations to visit throughout the South.
Entertaining

Southerners don't need any excuse for a get-together. Whether you're hosting your family's Sunday supper after church, a big crowd for game day, a summer cookout, a milestone birthday, or celebrating holidays throughout the year, you'll find complete menus and ideas for decorating your table in every issue of Cooking with Paula Deen.

The Seasons' Best

Cooking and eating seasonally is how Paula grew up, and the recipes in her magazine celebrate the South's year-round growing season. From tender veggies in the spring and summer's abundant produce to fall's apples and pears and winter's squash and greens, Paula shows you how to deliciously prepare nature's gifts.

Southern Classics

When it comes to tried-and-true Southern recipes, Cooking with Paula Deen has you covered. Fried chicken and meat loaf, tomato pie and creamed corn, biscuits and cornbread, deviled eggs and pimiento cheese, pound cake and peach cobbler, casseroles for morning, noon, and night—you name it, and you'll find it in the magazine.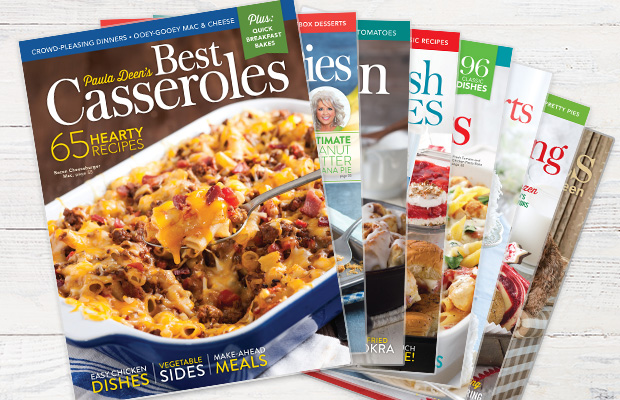 Cooking with Paula Deen Online Store
Once you've had a taste of Paula's scrumptious cooking, you'll definitely want more—which is exactly what you'll find at the Cooking with Paula Deen online store. This is your one-stop shop for current and back issues of the magazine, books, DVDs, and special issues on everything from hearty one-dish meals, chicken dinners your whole family will love, the best Southern desserts, potluck dishes for year-round get-togethers, seasonal baking, and holiday entertaining, plus commemorative anniversary editions.
Shop Now
Jamie's Family Table

Coming together at the end of the day is so important for strengthening family bonds. In Cooking with Paula Deen, Jamie Deen shares his practical, fun dishes that are perfect for families of all ages and sizes. Jamie's recipes feature well-chosen convenience products combined with fresh ingredients to create easy home-cooked meals that appeal to both kids and adults.

Paula's Weekly 5

In this feature, Paula delivers five family-friendly menus for weeknight meals that can be prepped, cooked, and served in 45 minutes or less. Each day's menu features recipes for an entrée and side for a complete meal. Time-saving cooking tips and a shopping list of ingredients for the recipes are included, making meal planning and grocery shopping a breeze for readers.

Bobby Lightens it Up

Within Cooking with Paula Deen, Bobby Deen shares his love for lighter, healthful cooking, but his recipes are still firmly anchored by his Southern roots. Bobby trims fat and sugar from his mama's classic Southern dishes that he grew up with—without sacrificing taste or quality. He loves to experiment with ingredients, and his column is a great place for readers to discover new products and flavors.