Snickerpoodles Dog Treats
By
Paula Deen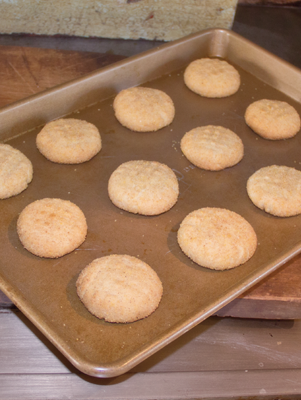 Prep time:

20 minutes

Cook time: 8 minutes
Servings: 2 to 3 dozen
Ingredients
1/2 cup vegetable oil
1/2 cup shortening
1 cup honey
2 eggs
3 3/4 cups white flour
2 teaspoons cream of tartar
1 teaspoon baking soda
1/2 cup cornmeal
2 teaspoons cinnamon
Directions
Preheat the oven to 400ºF.
In a bowl, mix vegetable oil, shortening, and honey together until smooth. Add eggs and beat well. Then, blend in flour, baking soda, and cream of tartar. Knead dough until well-mixed. Shape dough with rounded teaspoons into balls.
Mix the cornmeal and cinnamon together in a bowl. Roll the dough balls in mixture. Place balls about 2 inches apart on a cookie sheet that has been sprayed with a nonstick spray. Press the balls down with a fork twice going in 2 different directions, or press with your favorite stamp.
Bake 8 minutes, then remove from baking sheet and cool on a rack.